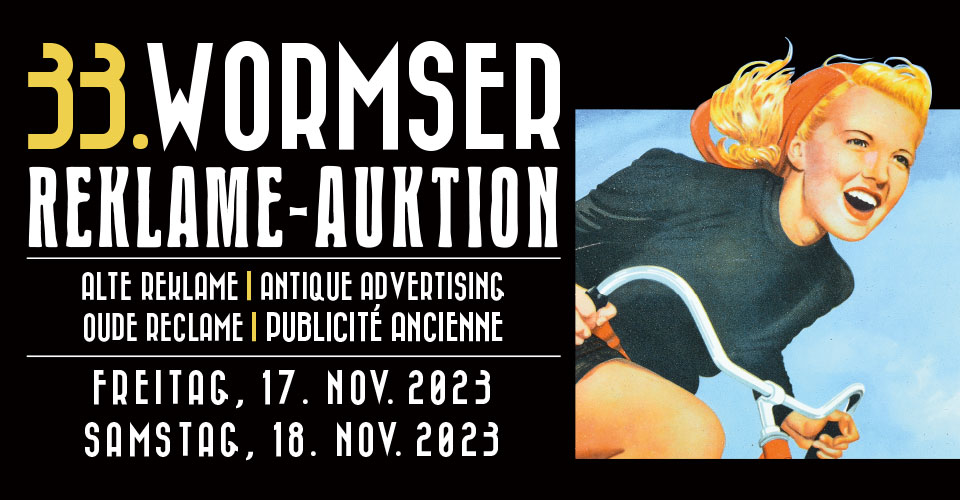 33rd

WORMSER REKLAME-AUKTION
At the end of the year, we try to mobilize all our efforts once again and let the positive energy from the previous auctions flow into the last auction of this year, in order to find a perfect conclusion for antique advertising and the auction year 2023! 🎆💫
An auction weekend with high-class enamel advertising from almost all topics leave no wishes unfulfilled for collectors and advertising enthusiasts!
We look forward to welcoming you for the last time in Worms in 2023, when the antique advertising will once again experience its well-deserved high culture!✨
HOW CAN YOU JOIN OUR AUCTIONS?
ON LOCATION
As a registered hall bidder, you can participate live on site in our participate in our auctions
and take your auctioned lots home directly
after payment.
17% provision excl. 19% VAT (20,23% in total)
ONLINE
After your registration on the platform of our partner Invaluable you can place your pre-bids via the online catalog, which will be presented 2 weeks prior to the auction date.
In addition, you can then participate in the auction live online and bid. You can view the auction catalog on this website, 2 weeks prior to the auction date.
17% provision + 5% online fees excl. 19 VAT (26,18% in total)
LONG DISTANCE
You can place your written bids via our bidding form or register as a telephone bidder for your desired lots.
Please send us the signed bidder form by mail, fax or post.
17% provision excl. 19% VAT (20,23% in total)
CONSIGNMENTS AND INTERESTING FACTS ABOUT OUR AUCTION HOUSE
WE ARE LOOKING FOR
high quality antique advertising items for our coming auctions, which will be held 4 times a year.
rare enamel-, tin-, or glass signs

old vending and gambling machines, or

vintage tin cans, posters and advertising figures
in good condition

WE AUCTION
 For over a decade we have specialized in the auction of antique advertising, primarily old enamel signs.
An average sales rate of over 95% speaks for itself. Our consignors are spread all over the European continent, some of them even coming from overseas.
Discover interesting objects in our detailed auction catalog or the extensively illustrated online catalog.
WE EXAMINE
Does your collection consist of very special pieces or is it very extensive?

We would also be glad to examine your special pieces at your home and pick them up there as well.
In the case of a particularly extensive collection, a special auction would also be possible!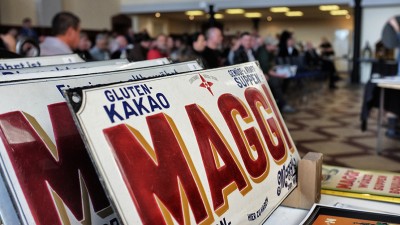 A special atmosphere
Enjoy the unmistakable scenery of our venues, for example the time-honored halls of a local power plant.
The industrial charm combined with the historical advertising materials on display for the auction creates a unique vibe.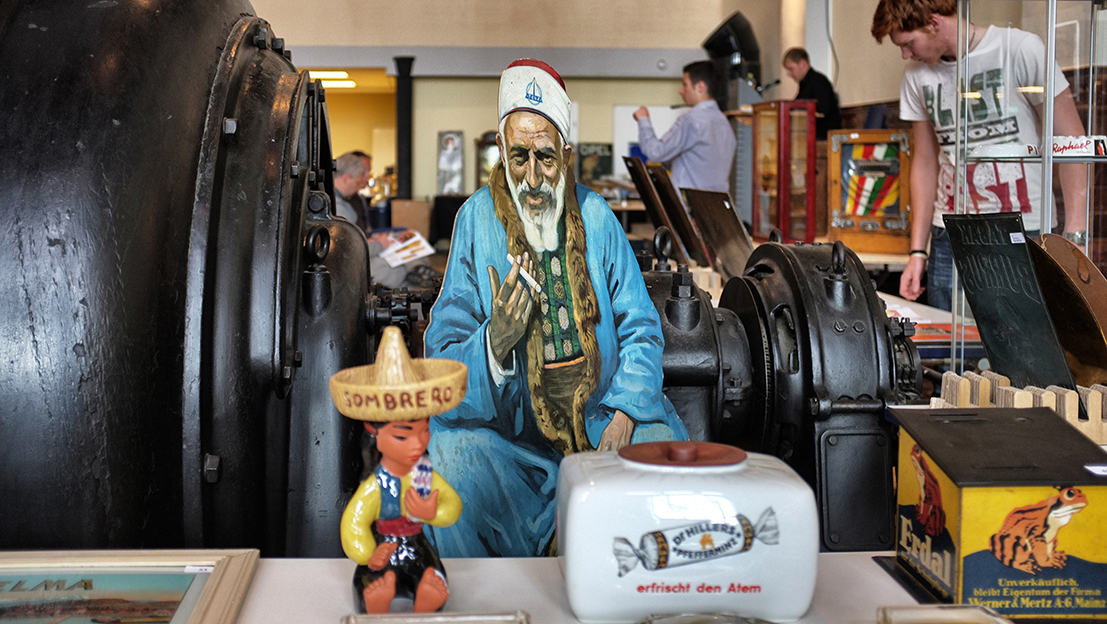 Payment
Among ancient turbines you can examine each of the offered objects in detail or attend the auction in the old boiler house almost under the open sky.
During the auction only cash payments are possible – however, you are welcome to pay on account, only the auctioned item would have to stay with us for the first time.
It will be delivered to you immediately after the receipt
of payment.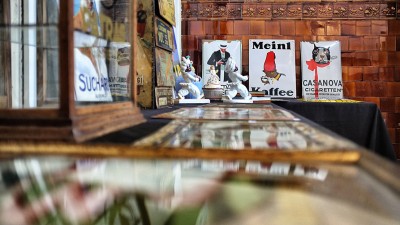 Unique event
In front of the gates of this auction hall is a huge, paved parking area, where already early in the morning the first dealers and visitors come together to create a large parking lot market.
Should you not be able to experience the auction on site, we offer you the opportunity to participate in the auction by written bid, as a telephone guest or live online.
SOME OF OUR PAST AUCTIONS
VI. Special auction - A Late-Summer-Event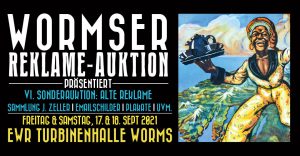 After one year, the time has finally come and we were able to return to live auctions on-location – a truly fitting re-entry with Jürgen Zeller's collection.
Our concept of holding a 2-day auction with a free-of-charge parking lot market, including a food truck and wine bar afterwards received overwhelmingly positive receptions – there was browsing and haggling continuing late into Saturday night – a real celebration cause for Wormser Reklame.
The 26. Wormser Reklame-Auction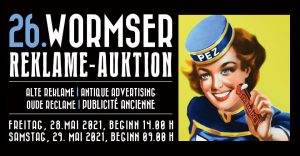 An auction for everybody, regardless if you're highlight-collector or new to the scene – with over 950 lots it was the biggest auction held over the past 10 years.
Not only that – at the same time this auction was the most lucrative one ever held on german grounds.
V. Sonderauktion - Posters / Plakate / Affiche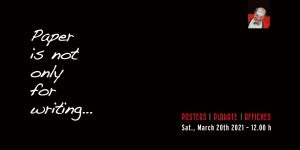 A Post-Summary
As we received this private collection a little over 3 months ago, we knew that something special would come of it. After we bested the challenges 2020 had in store for us, we have luckily mustered up the courage to add this collection to our first special auction. At the start of the auction week we would've never thought it possible to be able to get back to a 100% sales quota – even with every lot roughly going for the estimated values.
Prior to the auction, we have bested a rough journey. we had to create capacities. Nt only time-wise, but also finding space – all the while having to prepare our other 26th scheduled auction and not falling behind on that. Day and night, we packed, viewed, restored, photographed, and so on. Sometimes these long work hours even came to visit us in our dreams.
All in all we want to say we did everything right. At long last, it was up to you guys to be the judge of that. Because of this we tip our hats to you – we are proud to be part of such a lively scene on the come-up.
The 25. Wormser Reklame-Auktion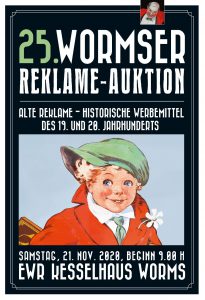 100% SALES QUOTA, EVEN IN 2020!!!
After a real auction-Marathon during our anniversary-auction, we can only be thankful for the scene, it was truly remarkable!
Every single one of our auctions held this year will forever one-of-a-kind – all of them offered a completely unique and truly special auction-experience.
THANK YOU SO MUCH for your outstanding participation! It was a real pleasure, holding this auction for you all.
A Late-Summer-Event: The IV. Sonderauktion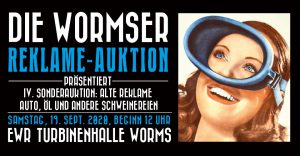 EPILOGUE:
Fellow Collectors,
Unfortunately, our LATE-SUMMER-EVENT is already history – still, we won'T be forgetting it for a long time.
During a beautiful late summer day, over 200 hall-bidders came and sat in our Open-Air hall and created, in combination with our countless online- and phone-bidders, a magically competitive atmosphere. Not only were the surcharge-prices of some lots exceptional but also the overall mood was spectacular.
The concept was definitely met with a positive reception and will be reproduced next year for sure with alterations.
TIL NEXT TIME!